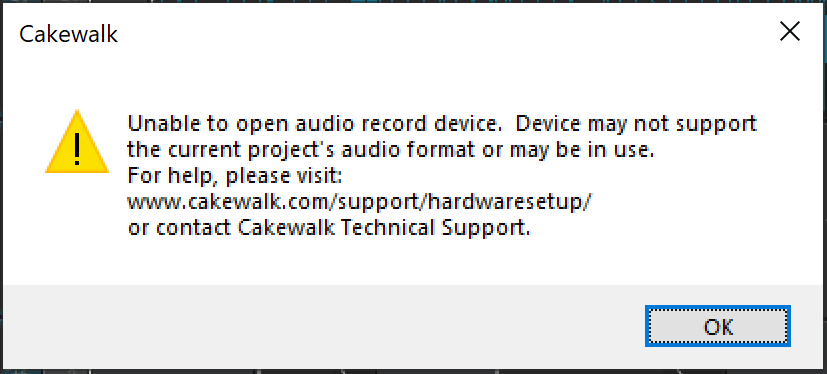 This error may appear if there is an issue with the configuration of your audio playback device. If you're using an audio interface, it may be helpful to ensure you're using the latest version of Cakewalk by BandLab, then reinstall the latest drivers from the manufacturer.
---
Here are some troubleshooting tips to help clear this message, and avoid it in the future:
Check if this error only happens with previously created projects or if it also happens with new projects. If this issue is exclusive to previously recorded projects, it's likely your projects were recorded in a different sample rate than what your interface or sound card is currently set to.





The sample rate of your project should be displayed in the Transport module of the Control Bar. You can use the devices software or physical switches (if applicable) to match these settings. You can also verify the proper bit depth in

Edit > Preferences > Audio > Driver Settings

If you are using an audio interface but also have your internal sound card enabled, try disabling the drivers for your internal sound card in Cakewalk's preferences menu. This can be found in

Edit > Preferences > Audio > Devices.

Make sure only one audio device is in use from this category, then click

Apply

and

OK

to save the changes.

Your audio playback device may also be in use by another program. Try closing any applications running in the background such as web browsers and streaming apps, then restart Cakewalk by BandLab.